Writing is a demanding and chaotic process. There's a lot that needs getting done before you see the fruits of your labor.
Identify target keywords, generate a handful of ideas, finalize a couple, research, trip down the rabbit hole, before finally articulating words swirling in your head on to paper.
On top of that, you have to obsessively worry about publishing a double-digit number of articles—every single month. After all, companies that published 16+ blog posts per month got almost 3.5X more traffic than companies that published between 0 – 4 monthly posts.
While there's no running away from working hard, how about working smart? Not that I'm asking you to cut corners, but simply telling you to be onboard with another strategy to make your content creation efforts pay off.
It's a simple one.
You go back to the posts that are married to the debris of dust collected over the years and give them a shine. Put simply: update them.
Why update old blog posts?
To leg-up in this extremely competitive content marketing world.
Ever since businesses have realized the importance of content marketing they've started creating more content.
Unbelievable as it may sound, but every 0.5 seconds a new post is published. And on WordPress alone 70.5 million new posts are published each month.
Does every post get read? Here's what folks at Ahrefs discovered after studying almost a billion pages: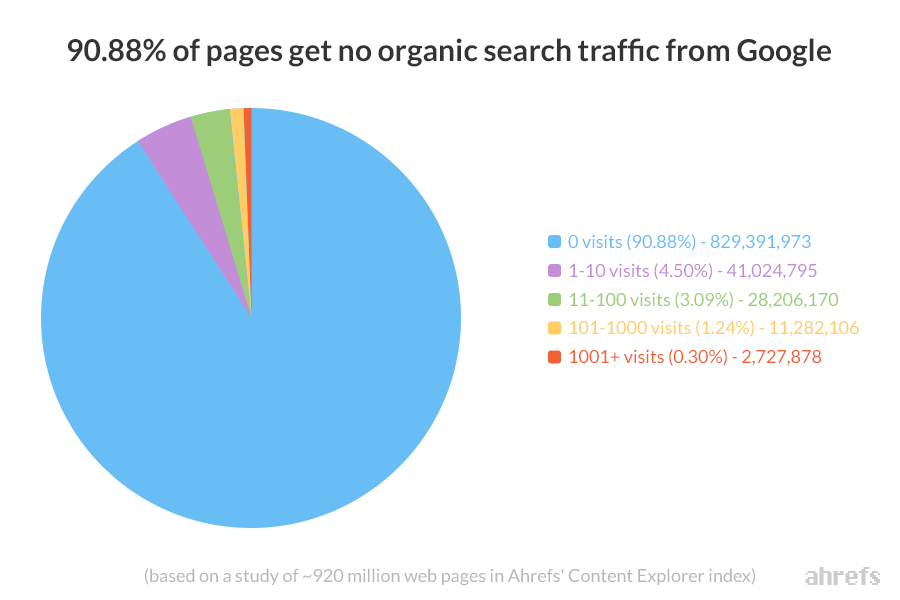 Clearly, among other things that you're doing to bump your search traffic, if updating older posts isn't one, you're probably going to hit a dead end. After all, pulling all the strings is what'll ultimately drive results.
HubSpot reported that 90% of their blog leads and 75% of blog traffic came from their old posts. Sure you can't overlook them then.
What's more, according to Orbit Media's poll, bloggers who regularly update older articles report strong results. 💪
Fair enough.
So what makes them vouch for blog optimization? 💁‍♀️
Bumps up blog traffic with minimum effort
You don't start from scratch. The groundwork's already done, which means you're only required to fine-tune your blog post. A couple of stitches here and there and you're au courant.
Creates a better user experience
When you update your post you're helping your reader with the information that is relevant to them at the time they're reading it. There's no stale advice, meaning you've proved yourself as a real-time problem-solver.
Extends the shelf life of every piece you update
It's a fact that even your most loyal fan hasn't read everything you've ever written. But when you do update old content you improve its chances of being rediscovered and making sure your efforts don't go in vain.
Which blog posts should you optimize?
Valid question, especially if you have been running a blog for a long time and have a vault full of articles that have accumulated dust over the years.
Which ones to pick from the lot though? To rule out any confusion, listed are a few that deserve immediate attention.
#1 High-traffic generating blog posts
You're well aware that spying on competitors is a thing. Your rivals are already using your top-ranking and performing posts as a benchmark. But instead of going smug, do an honest content audit to make your content even better. Are there any key areas that could do with a facelift?
#2 Posts ranking, but not in the top 10
Brian Dean devised a content relaunch formula and jumped from rank#7 rank#4 on SERPs, increasing this post's organic traffic by 260.72% in merely two weeks. This big success earned him new backlinks, boosted his rankings, and helped generate traffic from social channels too.
#3 Evergreen blog posts
Evergreen posts are what HubSpot likes to call compounding posts. They have a longer shelf life and so account for a large proportion of blog traffic. Clearly, and because they're being read more over a period of time, they'll surely do much better with an update.
#4 Posts with multiple backlinks, but low traffic
The reason you're earning backlinks is that your content is top-notch quality. Or why else will people link at all? But even when your post's being appreciated, it might not reach the traffic magnet status. Perhaps it lacks something that readers are looking for?
#5 Rockstar posts losing their shine and rankings
Just the way old photographs gathers dust in a room that's locked for eternity, over a period of time, old blog posts too lose their shine. So dig them up first and salvage them to restore their rockstar status!
#6 Posts with good social engagement
Using tools, such as BuzzSumo, track posts that have done or are doing exceptionally well on social media and give them touch-ups, wherever necessary. Doing this will ensure that your articles continue to grab as many social eyeballs they possibly can!
#7 Posts with high traffic, low conversions
The whole idea of content upgrade and a content offer is they add extra value to the reader. But if these posts aren't converting as expected, in all possibility, they're out of line. Or the CTA is confusing. Your best bet is to fix that. HubSpot added a press release content offer to one of their posts about press releases. The conversions shot up by a whopping 240%.
What can you do to update old blog posts
Follow on.
#1 Make it bigger, better, and in-depth
The biggest risk of writing long blog posts is running out of ideas on what to cover. To hit the word limit you might end up adding irrelevant details, or what's famously called fluff. But readers are intelligent to recognize that and punish you for that by bouncing off.
To avoid that from happening here's all that you must:
#1 Find out what your readers want to know
The easiest is to weigh in on the intelligence that tools such as Answer the Public, Semrush keyword research, and Ahrefs Keyword explorer pop for you. By answering some of those questions and covering the themes you can easily turn your post into a brilliant, share-worthy material.
Another great idea is to check 'Google auto-suggest' and 'people also ask section'.
#2 Hang out on discussion groups, chats
Other than Reddit and Quora think of hopping in on Facebook and LinkedIn groups. They might not be as popular, but you never know where you might find inspiration!
It's also a good idea to actively attend Twitter chats from within your industry. You'll come across the pain points and questions your target audience wants answers to, which you can then address in your post(s). Later, you can direct the same set of people to your post. Howzzat!
Finally, read your readers' comments on your posts. Have they asked a question that you can answer to in the post?
Bonus tips: Pick common phrases and words your audience uses and include them in your article. Since they are semantically linked to your topic, they'll create a ripple effect and result in a surge in your post's ranking and readership.
#3 Analyze the top-ranking posts
They're sitting up there on the leader board for a reason. Find out what they're doing to land that hot spot.
That said, don't simply copy their success formula of the top 10 pages on SERP. In the end, you'll simply be summing up what everybody else is saying. How does that make you any different?
Granted you will rank, but will your readers not make out that you're spamming them with rehashed information? Of course, silly. Even SEO agencies know they're rigging their way to the top.
The folks at the Animalz raised the same issue and discussed in their podcast episode called The Copycat Content Crisis.
How do you stand out then?
Leverage your tone of voice and spin a completely new narrative to say things no one else is talking about. Dig deep to find out what's missing. You'll definitely find the hook, which will fill the content gap and get more eyeballs on your content.
#2 Take the visual meter several notches up
It breaks my heart and worries my eyes to see posts that aren't big on visual content. 😯
Don't we already know that visuals increase the number of page views by 92% and also the time spent on the page? Or are you waiting for a wake-up call? If so, consider this a gentle reminder.
Ideas? Plentiful.
Let's say, you have an article on content marketing stats. Summarize it in an infographic and embed it right at the bottom of the post. For journalistic-style articles, highlight key quotes in images. Here's an example from one of the Databox articles:
For the posts laden with images, replace a few that pass off as too old for today. This is particularly important if you've recently undergone re-branding. This exercise might seem futile, but suffice it to say that your blog content, especially the ones you plan on optimizing, cannot be off-brand.
Over to videos.
Add them if your post explains a complicated concept or your product. 73% of U.S. adults, according to Animoto survey, are more likely to purchase a product or service after watching a video that explains it.
With both text and video on the page, you end up serving two sets of people — ones who prefer text over video and vice versa. Also taken care of are the people who enjoy combination content formats.
For example, if it's an instructive guide on using three needles to knit a complicated pattern, a video will be a better visual aid. Or if you have a couple of product updates, think of adding a video to communicate the changes. It makes for a more one-to-one, personal experience for your customers. Folks at Wistia are great at it:
Custom visuals (infographics, charts, graphs) are another great visual content addition and can be used to explain complex topics and represent numbers. Several tools, such as Piktograph, Vengage, Mind the Graph are available to help you create them in the easiest and fun way possible.
Bonus tip: SEO-optimize images to increase the chances of other people finding, using, and sharing them.
Further reading: 12 Types of Awesome Visual Content You Can Use in Your Blog Posts
#3 Format your post
Back in the early 2000s formatting wasn't really a thing because Google algorithm functioned in a different manner. With time though, things have evolved. And for better.
Today Google gives special preference to content that's written and been presented in a certain way to the internet audience. Why because people's reading habits have changed.
According to research by the Nielsen Group, only 16% of people read word-by-word. The rest are scanners and scavenge for pieces of information that are important to them.
Want more? 55% of readers spend only 15 seconds on a blog. Reason being? They don't have time to waste on content that's not fit for consumption in the time when an infinite number of things are clamoring for their attention.
So here are a couple of things you can do to serve scanners and skimmers to boost your page's readability:
Go for a large font size, preferably 16px.
Write short and crisp paragraphs.
Use header tags to tell readers where to look.
Use bold text to highlight important information.
Use bullet points to break chunky paragraphs and information.
Break monotony with visual content – videos, gifs, images, etc.
Conclusion should summarise the article.
Bonus tip: For long-form content, add a table of contents with anchor links, making it easier for readers to skip to sections that answer their questions. Google too is able to understand the structure of content and send readers to info matching to their search query. Here's how Google includes anchor links right beneath the search result:
Other non-format related pointers:
Use active voice.
Write like you talk. No one likes listening to sermons. #ItsTrue
Incorporate semantic keywords or keywords related to the topic.
Use Grammarly or other tools to get rid of silly grammar mistakes.
For an interruption-free read make sure links open in a new window.
#4 Keep it fresh and juicy
It's a good practice to spruce your content with recent studies and stats. But over a period of time they turn stale. That's why citing fresh research and numbers is more fitting and a clever thing to do.
Your readers will count you as a more credible source compared to blog owners who haven't bothered getting the early 90's stats off of their websites. You get the picture? 😈
Another option is to present both the current and past stats for your readers to get a comparative view. It's an instant way of getting a response out of them!
Think of topical issues, news, and trends. Brainstorm how you can use those to give old posts a new spin or where adding them makes sense.
Google trends is a handy tool to discover what's being talked about around the world. Pick a category, type a topic and it'll prompt data including the search volume and geographical information. Then there's BuzzSumo that spots trending topics and what's making the maximum noise on social. Using this intel you can easily tap on to your audience's pulse and give your content an instant boost.
#5 Add and update internal links
When you add internal links, you make it easier for Google to understand what you're talking about, as well as see the expanse of your expertise on the subject matter.
Plus, your readers' dwell time on site also increases, which is a signal to Google that this website content is high quality.
Here's what you'll do:
Make a list of pages that relate to the post you want to update. Then scan for spots where those juicy links most fit. Et voila, you're done before you know it.
You can also remove links that make no sense and replace them with relevant ones to improve overall user experience. Also use tools like Redirection to reroute old URLs. NinjaOutreach increased their organic traffic by 40% doing exactly that.
Basically, the idea is to be as helpful as you can be to your audience and give them as many informative resources as possible. Doing so you'll earn their trust and you'll become their go-to resource.
Caveat: Don't go overboard by stuffing internal links. 2-4 links are enough.
#6 Get rid of broken links
There's a fair chance that on several old posts some links might be broken. As per an SEMrush study, It could be because you changed the URL unthinkingly, forgot to set redirects, you lost the page during migration, deleted it, etc.
Whatever the cause, having them on your page makes for a frustrating onsite experience and damages your reputation. In fact, it compromises the overall efforts put in on-page SEO. So exterminate them as soon as you can.
The process is simple.
For internal links:
Step 1: Use a tool of your choice to identify the broken and orphan links. Wordstream, Ahrefs, and Semrush are paid ones, whereas Google and Broken Link Checker are free.
Step 2: Remove or replace them.
For broken backlinks:
You obviously don't have control over fixing them, so the best is to run a report.
Step 1: Using the same tool identify broken links.
Step 2: Either reach out to the website linking out to you to let them know the link's broken and replace it. Or, if you haven't yet redirected the page, do so, otherwise you'll risk losing free traffic.
#7 Meta titles and descriptions
Elise Dopson, a B2B writer, within a month of optimizing meta titles and descriptions, noticed her blog traffic increased by 54%, impressions by 57%, and the average ranking position jumped by 10 places.
How come?
Suffice it to say that when you write an on-point title and description it drives the CTRs through the roof. Your readers know what exactly the post's about and if it matches their search intent they click it. After all, that's the first thing your readers interact with.
So get down to optimizing weak or vague post headline/description to best communicate the value to your readers. If it's dead as a log, then it doesn't matter if you've packed gold in the piece, no one's ever going to click on it.
Gradually, with more people finding and clicking your article, Google RankBrain will definitely take note and reward you with a boost in your post's search rank.
Getting ready to rewrite better titles.
According to HubSpot study, bracketed clarifications in headlines, for example, [videos], [photos], [interview] performed 38% better than those without any clarifications.
So go for it and see if it changes anything for you.
You can also include year in the title of posts that continues to be important, year on year. For example, <51 Content Marketing Stats to Fuel Your Marketing Strategy [Updated October 2019]>.
Right in the first glimpse, the reader will know it's not a clickbait article with stats quoted from 10 years ago.
What also works is updating the time stamp or the published date so that readers are aware that they're on a resource that has the most recent piece of information they're looking for. Here's what I found when I looked for IoT stats. Seems like the strategy worked out for Comparitech.
#8 Rework your keyword strategy
First off, you'll enter the blog URL in whichever tool you use to work your keyword strategy.
Let's say you are familiar with SEMrush. The moment you hit search after inputting the post link, you'll be shown a list of keywords you're ranking for.
If you spot some keywords you didn't target, and your topic is still very much relevant, it's a good idea to spin content around it for real SEO advantage.
You should, in fact, also use Ubersuggest, LSIgraph, or other similar tools to find similar, additional semantic keywords that you can use on your post to meet your searcher's intent.
These keywords are closely linked to your target keyword, and including them in your blog will be quite an organic process. You would be surprised to see the quality of your post improve.
The idea is to make your post a complete meal to satiate your readers' thirst for quality content. And this is your chance, so go for it.
Conclusion
By now you know the various benefits of updating your blog. You don't start from ground zero rather beef up the existing piece with more details so that it works its magic on your readers. Besides, Google, as we all know, loves walking past (read: crawling) and giving preference to quality fresh content.
So boot-up keeping user experience in mind and update your post to stay relevant to your readers and their search intent.